Curious which hammock to buy and don't know where to start? We get it. There are literally hundreds of options out there, and it's all a bit confusing if you're just getting started.
That's why we created the World's Greatest (Only?) Hammock Comparison Chart.
There are a lot of options in this chart, and it might seem overwhelming at first glance. But don't worry. This handy dandy hammock table is easy to sort to help digest the options or search for something specific if you already know what you're looking for.
More hammock resources
This chart focuses on hiking, camping, and backpacking hammocks. It includes all of your well-known, reputable companies and each of their signature hammock offerings. Of course there are even more (!) types of hammocks than what's on this list, and we've got you covered there, too.
Maybe you need something for your backyard or your cat? (Hey, no judgement. I totally own one.) A hammock for kids? Maybe you want a folding hammock you can take to the park and car camping, or more of a foot sling for an airplane? Maybe it's a friend's neighbor's brother's birthday and you have budget for a hammock under $50? Very doable. Maybe it's a hammock for a child? Or winter hammock camping?
Check out our complete hammock buying guide for more info.
As self-proclaimed hammock experts, we also urge you to reach out to us anytime with any questions you might have as you hammock shop. Comment below, email us, find us on social media—whatever. We're always happy to help!
The top hammock brands at-a-glance
Now, back to this chart. Maybe you've heard of some of these brands, maybe not. The good news is that we know them—rather well. We personally know the people behind many of these hammock and outdoor gear companies and have worked them for years. We also own hammocks from almost all of them and, if so, will gladly answer any questions you have about quality, style, ease of use, etc.
We've also included a bit more background on each of these companies: who they are, what they're known for, who their products are best for, and so on. This should give you a little more insight and guidance as you're considering what's right for you.
A word to the wise
This chart is best viewed on a desktop or tablet. If you're on your phone, it just won't do it justice since it's tiny—of course—but also because all of this information is sortable and searchable, helping you figure out which hammock is right for you.
To really use this tool, sign up for our newsletter and we'll email you a link right away so you can hop back on when you're at a computer. And, being a subscriber means you'll stay in the loop on the week's best outdoor gear deals, gear reviews, news, and more.
Click on any column title to sort. Click on any hammock name to learn more and shop.
More info about this chart
Sort + search functions
Use the arrows at the top of each column to sort by brand, price, capacity, the weight of the hammock, the dimensions (tall people, take note), whether it comes in solid colors or print patterns (a very important deciding factor), etc.
Looking for a kids' hammock? Type "kid" into the search box. Looking for something ultralight weight? Look for those terms, or sort by weight.
Why do some hammocks say single person capacity but can hold up to 400 or 500 lbs?
That's because they're very durable quality, but they're not super wide, so it'd be tough to squeeze two people in. Babies and dogs are the exception. One way to tell how "durable" a hammock is by the denier, which is the fabric rating. Heavy-duty hammocks will have a higher denier than lightweight hammocks. Naturally, the higher the denier, the heavier the hammock will be (we're talking ounces here). If you're backpacking and want an ultra-lightweight hammock, this is something to pay attention to.
What colors are available?
For ease of organizing, we only note on the chart if the hammocks are available in prints/patterns, solid colors, or both. Some of the solid color options let you pick two colors—one for the hammock and the second for the trim. To see the exact colors available at any given time, visit the companies' websites directly.
Are these prices accurate?
All prices were accurate at the time this was published in January 2020. Prices reflect full-price items, though often times many of these hammocks can be found on sale. Visit the companies' websites to see latest offers, or…
How do I find out about hammock deals?
The best way to know about current sales is to sign up for our newsletter, where we not only share the best hammock deals each week, but we pull together the very best deals on all the top outdoor gear. Yup, that's right, every week. Think hiking gear, camping equipment, outdoor apparel, gadgets and tech, and more. Sign up to stay informed!
Does this list include every hammock?
No. This list includes most of the hammocks currently available for sale from the main hammock and outdoor gear manufacturers. These reputable companies offer high-quality products that we can personally vouch for or other well-established gear websites have favorably reviewed. We update this guide regularly to make sure the information is accurate.
What does this list not include?
Brands that do not specialize in outdoor gear
There are tons of cheap hammocks out there in terms of price and quality. To weed out the imposters, we did not include hammocks sold by companies that don't specialize in hammocks or any type of outdoor gear.
If you are on a budget, there are some great quality hammocks at an excellent value. Many are listed on this chart, and even more are explained in detail in our list of the best hammocks for under $50.
Every single mom-and-pop hammock company
Several of the brands on this list are small, independently-owned companies started by people like you and me. We love supporting them and want to tell everyone about the awesome products they've spent years personally developing and marketing and brought into this world. It's a competitive industry, and we are inspired by their innovation and courage!
That said, there are still several more companies out there that we personally cannot vouch for or find enough research to rightfully recommend. In writing this guide, we came across even more companies than we initially knew of—after 6 years of doing this! While we aren't saying they aren't nice hammocks, we simply haven't tried them or found enough reputable sources who vouch for them.
If you represent a brand like this and want your hammock included on this list, please reach out. We'd love to meet you and learn more about your product.
Limited-edition or specialty hammocks
In other cases, limited-edition hammocks from some of the brands on this list may not be included. Several of these larger companies partner with other brands for custom hammock prints. Or, they launch a seasonal print. While this chart does includes all of these brands' standard hammock offerings, it may not include special releases or limited runs.
How do these brands and their products stand out from each other?
Let us break it down to you, from our perspective. Why should you trust us? Because we're the absolute authority on hammocks. We own more than 25—including samples from most companies on this chart—and have logged countless hours in hammocks over the past six years.
So, here's a quick look at what these brands are known for, the type of gear they make and who it might be best for, and any other fun or interesting tidbits that we thought you'd like to know as you're getting to know these companies and figuring out which brand fits your brand. Like the chart above, these are listed in alphabetical order.
Bear Butt — We've never used these products so cannot personally attest to how great they are or aren't, but they get a lot of love on Amazon as one of the more highly-rated, affordable hammock options.
Coalatree — Coalatree makes great products, including its hammocks. I love their designs, though the hammock I have is a single, and even if I'm solo I prefer a double hammock. I do opt for it when weight is an issue, though, since it's fairly lighter than most others. For reference, it's half the weight of a Grand Trunk double hammock.
Eagles Nest Outfitters (aka ENO) — As far as I'm concerned, this is the OG hammock company. It was the first hammock I had, but more importantly, they have massive widespread distribution in physical retailers like REI, as well as several other popular retailers online. ENO is famous among college kids, and they sponsor music festivals and other lifestyle events, so have a huge following of young people. One of my favorite hammocks I own is the disco hammock from the collaboration between ENO and Betabrand.
Grand Trunk Goods — If you want a cool hammock design that'll stand out from the pack, get on some Grand Trunk. We have several of their hammocks, and they make heads turn. Grand Trunk also sells lots of different color straps, which is fun.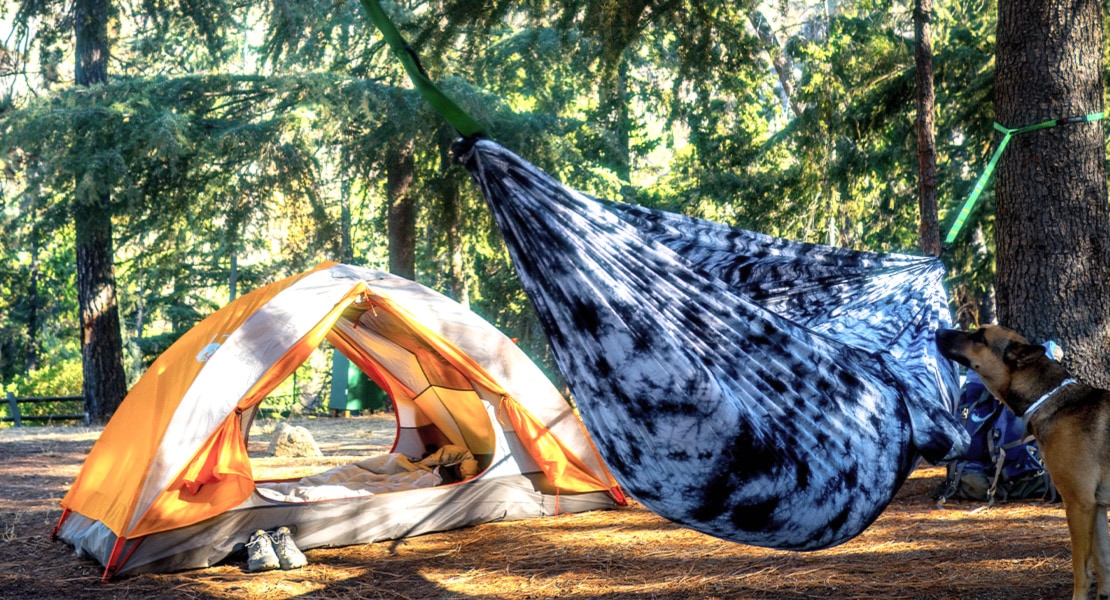 Hennessy Hammock — Hennessy is the real deal. They're also carried in REI and market their products as a survivalist hammock/tent. Another thing that makes these hammocks unique is the asymmetrical design. This allows you to best lay in a diagonal position, which is considered the best and most comfortable, as it relieves pressure from your low back. I have one of their hammocks with a bug net and an insulated pad. While I have hung it and snapped a photo (for a giveaway we hosted years ago), I'm yet to really spend time or a full night in it. Stay tuned.
Hummingbird Hammocks — Just eking out the competition, these guys make the absolute lightest hammock in the game, at a great price point. We love how the website goes into great detail on the types of material used and other ways to cut down on the oh-zees while backpacking, like ditching hammock straps and using lightweight cord.
Kammok — This is one of the leading hammock brands, though I've never used one. Gasp! They seem very well made, and people love them. They're doing something right. I do have a pair of straps that I bought at REI. They're thinner than any other straps I own. Apparently thicker straps are better for trees because it helps disperse the weight and they don't dig in. I've never noticed straps damanging trees, but it's worth pointing out.
L.L. Bean — We've not tried their hammocks, but we do love this brand, having given them way too much money over the years.
Lawson Hammock — We love our Lawson! It's a fun little one-man hammock tent that gets the job done. It's highly rated and has gotten great reviews from several reputable outlets like Outside magazine. We definitely recommend it if this type of hammock/tent suits your needs.
Legit Camping — We included this option because it's another Amazon top-seller. It's rather cheap (as are all of their other handful of products), and we can't vouch for the quality, but it does have 5 stars and more than 2,100 reviews, so people seem happy with it.
Litho Legacy — Their website was acting up the last time I went to it, but they're on this list because they have a pizza print hammock. While I haven't used any of their gear, I can only hope that one day I'll have a hammock with pizzas on it.
MalloMe — Another very affordable, simple hammock. While they are a little restrictive on the colors you can choose from, MalloMe makes some of the longest hammock straps in the game. We have a pair of these 12′ straps, and they come in handy when trees are far apart or have super wide trunks and you need extra length. They also make camping gear like marshmallow sticks (which clearly inspired their name and logo), cookware, lanterns, and more.
Sea to Summit — They specialize in lightweight camping and backpacking gear and make everything from pillows and sleeping pads to kitchen camp items.
Sluice Gear — We haven't used these hammocks, but they come up often as a good, affordable option.
Tentsile — If you're going for cool factor, you will achieve it with a Tentsile. The hammock/tents are complete crowd pleasers, and they're very well made. They're durable and sturdy. And most importantly, they're comfortable. Read my full review.
Therm-a-Rest — As a leading camping gear companies since 1972, they specialize in sleeping pads and sleeping bags, but also make pillows, blankets, chairs, cots, and, yes, hammocks.
Trek Light Gear — We don't own any of their gear, unfortunately, but we love following them on social media and think it's a great brand, though we cannot attest to the hammocks specifically.
Warbonnet — They specialize in lightweight sleep systems, including stent, outdoor shelter, hammocks with nets and tarps, etc. Warbonnet hammocks are made with an asymmetrical design for an optimal diagonal sleeping position. Based in Colorado since 2008.
Wise Owl Outfitter — Wise Owl is one of the most highly-rated hammocks on Amazon. It's also a very affordable option if you're on a budget but want something well-made. They offer plenty of color options, and the hammocks come with straps, which is a nice little money saver. We have one and can say it's a great little hammock.
We also suggest you visit these companies' websites and social media pages. You can get a good feel of a brand with a little bit of online research. Reviews can be also be super helpful, and so is good ol' fashioned word of mouth, so we're happy to be that point of reference. Please feel free to reach out anytime with any questions.
How do these companies give back to the world?
Great question! One differentiator for us when we're shopping is a brand's commitment to making the world a better place. Outdoor brands and hammock companies are in a unique position to give back to the planet and its people.
Check out our recent article on hammock companies that give back. It's a great reference if you're interested in learning more about how some of these manufacturers are using their resources to better the world.
Related posts