When you buy something using links in our stories, we may earn a small commission. Read more about our policy.
There's no shortage of portable, lightweight hammocks that can pack down into a small pouch and easily be thrown into a backpack. These are often called parachute or nylon hammocks. They're perfect for the everyday adventurer or even once-in-a-while hiker, but you don't have to go on an epic adventure to enjoy a hammock outside. While they're the perfect addition to any outdoor activity, they're also a good excuse for some outdoor inactivity.
While the parachute hammocks listed below are often referred to as camping hammocks, by no means must you go camping to use one of these guys. Take it to the dog park, read a book by the lake, drink Champagne under the Eiffel Tower. Whatever you're doing—inside or out—these hammocks will make it that much more comfortable.
Note there are some hammocks that may be better for camping (i.e. sleeping in overnight) or for backpacking (super lightweight). The hammocks in this guide, however, are your best go-to everyday hammocks. They're quick and easy to put up and take down. All you need are two trees.
Perhaps you're in the market for something else, like a backyard hammock? Or you only want to spend $50? Hey, we get it, and we got you covered. Or maybe it's for your kid?
We also created this handy—and rather epic—hammock comparison chart that lets you sort 90 of the best camping hammocks by price, size, weight, capacity, and more.
The best portable, parachute hammocks
Here are the best lightweight, portable hammocks that are great to take along on a hike or keep in the trunk of your car for any emergency relaxation situations. Our top picks take into account quality, design, comfort, and price.

Klymit
We just got our hands on a Klymit Traverse hammock and are very impressed. It's a well-made, durable hammock with an awesome geometric design.
Unlike most other hammock companies, Klymit includes straps with its hammocks, so take that into account when figuring out what's the best hammock for you. Their straps are heavy duty quality and a nice blue color that matches the hammock perfectly.
If you like to hammock in the winter, they also sell a sleeping pad that's specifically designed to fit inside their hammock and help keep you warm in cold temperatures. Read our full gear review to learn more.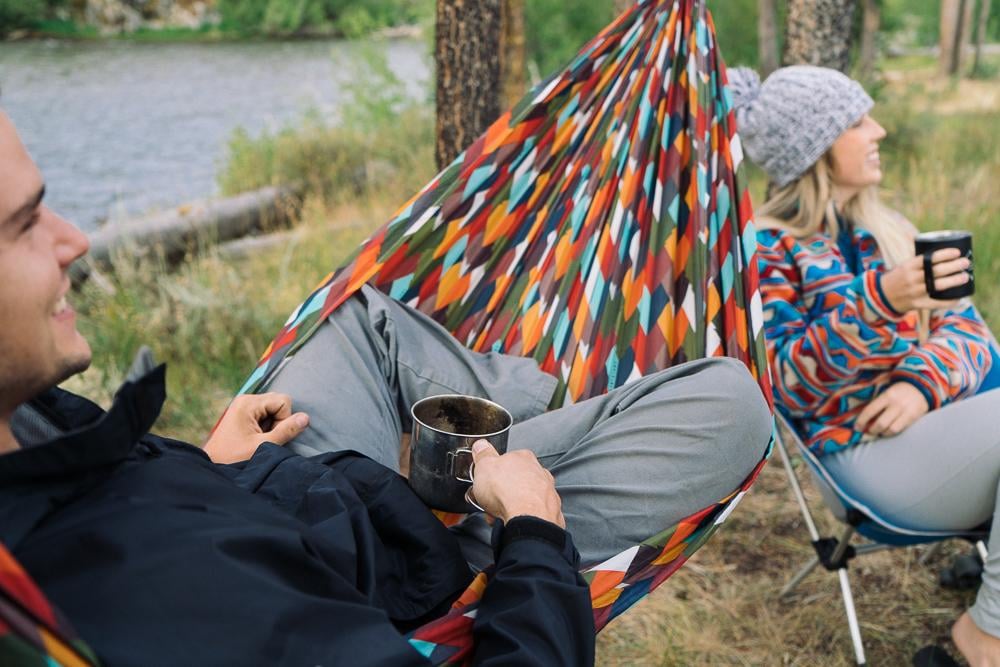 Coalatree
Coalatree is an eco-friendly and socially-conscious company based in Utah with fun hammock patterns and more than just hammocks. Their popular Kachula blanket is also perfect for taking along on hikes. It's durable enough for the outdoors and made with water resistant fabric. As a bonus, it comes with a hood and doubles as a poncho. Read our full review of the blanket to learn more.
Sorry, back to their hammocks… Check out their single and double hammocks options.

Grand Trunk
Grand Trunk gets our vote for having the best patterns and most variety when it comes to fun, different hammock prints. They also make some of the best quality hammocks in the game.
All things considered, you may end up paying a little more for a Grand Trunk than other brands, but we find it well worth it. And you can get lucky and find them on sale sometimes, so keep an eye out or sign up for our newsletter, and we'll alert you to all the best deals, hammocks and otherwise, from Grand Trunk and all your favorite outdoor gear brands.
Check out the bubble gum and galactic prints (and tons more). We're also huge fans for their brightly colored tree straps. Grand Trunk has a line of travel products, too, like neck pillows, a footed blanket, toiletry bags, and wallets.
ENO (Eagles Nest Outfitters)
Hands down the most popular hammock manufacturer out there, is sold at your local REI and really is to thank for putting this whole hammocking thing on the map. ENO was my first hammock, and it's what made me fall in love with them.
They also sell tons of great accessories like hammock stands, hammock lights (and hammocks with LED lights), rain tarps, bug nets, bags and packs, hammock chairs, and more. Check out all of ENO's great hammock options.
Kammok
Kammok's well-known Roo hammock comes in five different sizes (single, single ultralight, double, double XL, and junior for the kiddies). And they don't stop there.
Kammok makes three types of straps and strap extenders, travel and storage items, and lots of hammock accessories. They also sell several insulation options for hammocking, which is perfect for winter, including blankets, trail quilts, sleeping bags, pads, and pillows. And, various types of shelters, such as tarps and hammock tents, so they've got you fully covered for all your hammock camping needs.

Trek Light Gear
One of the best small business hammock manufacturers out there, Trek Light Gear gets hammock life. Their double hammock is straightforward, available in five color combos, and a good price. They plant two trees via Trees for the Future for every hammock sold. To date, they've planted more than 33,000 trees. They offer a lifetime warranty and a happiness guarantee. And that's why we love supporting companies like these.
Related posts