When venturing into backcountry territory—or just going out for a day hike—it is highly suggested that you bring along the "10 essentials," which could save your life should things take a turn for the worse.
The list, originally published in a mountaineering book in 1974 (according to Wikipedia), includes all the things you would expect and some you might not. They are all important.
But I'm here to tell you about another 10 that I've added to my list of essentials to help make backpacking, hiking, and camping more comfortable (…and more fun… and more delicious).
Here are some packing lists and things to consider on your next trip out into the wilderness—some from the experts and some more from yours truly.
When you buy something using links in our stories, we may earn a small commission. Read more about our policy.
Mountaineering 10 Essentials
1. Navigation (map and compass)
Print or grab a map of the area you're hiking or camping in. It's important to have a physical copy in case your phone dies. For a compass, this heavy duty one is impact resistant and waterproof.

2. Sun protection (sunglasses and sunscreen)
Nothing special. Anything will do really. I like Neutrogena Water Resistant 100+ SPF.
3. Insulation (extra clothing)
Be prepared in case the weather changes and always pack extra layers of clothing. Depending on the weather, consider a light base layer, mid-weight long-sleeved layer, and a heavier coat, if necessary. My favorite brands for base layers are REI and Patagonia.

4. Illumination (headlamp/flashlight)
The SpotLite 160 is Black Diamond's newest headlamp. It's also the lightest, smallest, and most compact headlamp, with a waterproof body.
5. First-aid supplies
This Adventure Medical Mountain Hiker Kit is an all-in-one pack that's ready to go, with carefully-selected first aid supplies to treat common on-the-trail injuries and illnesses.
6. Fire (waterproof matches/lighter/candles)
Waterproof matches can come in handy if your gear gets wet, but if the wood's wet, you might want to consider something like Pull Start Fire. These bad boys light wet wood in seconds and work in up to 200MPH winds. If conditions are fair, it's still a great option for the lazy camper who doesn't want to fiddle with a fickle fire. Or, if you're new to this whole camping thing, bring these along as you're learning to light.
7. Repair kit and tools
Gear Aid and Tape Kit for Wader and Vinyl Repair is great for quick gear repairs, and multi-tools are multi-helpful. I like this Gerber Suspension NXT Multi-Tool as an affordable, high-quality tool that'll get the job done.
8. Nutrition (extra food)
Should you be stranded or slower to get back than you initially planned, having extra food is key. This can be anything from GORP to protein bars. I'm a sucker for LARABARs since they're super clean with only a handful of real ingredients and KIND bars if I'm gonna "treat" myself.
9. Hydration (extra water)
The general rule of thumb for staying hydrated is to drink half a liter of water every hour. Again, in case you're out longer than planned or it's a hot day, always carry extra water. Use a large Nalgene that holds 48 oz and fill 'er up!
10. Emergency shelter
A tarp can act as a basic emergency shelter, or REI sells a few emergency shelter kits like this one, which comes with a tent.
HammockLiving's 10 (More) Essentials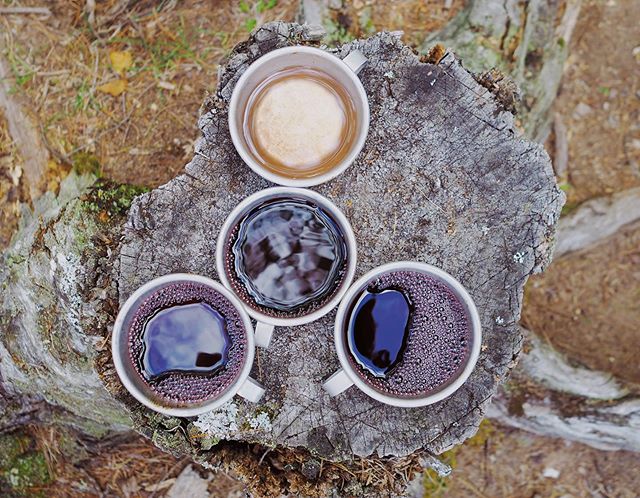 1. Hammock (of course)
If you know me, you know I equally adore Grand Trunk Goods, ENO, Lawson, Tentsile, and a few others. There's truly a hammock for every occasion. Check out this list for more inspiration.

2. Camping chair
A lightweight and compact chair can save your bottom when you need a rest. I never go anywhere without one (unless I have a hammock, then sometimes I will.) This one from REI is on their high-end side. It's lighter weight than others but you will pay extra for that. There are others that are still lightweight and a bit less expensive, but you know what they say—you get what you pay for.

3. Coffee
And a french press or AeroPress to make it quickly at camp or on-the-go. I like the French press for leisurely camp mornings and the AeroPress for hiking or backpacking.
4. Beef jerky
It's just so good when you're out on the trail.
5. Phone/camera/potentially a tripod
Some people like to completely go off the grid when they're outdoors, and I totally respect that. I sometimes do that, too. Usually, though, I have my phone on airplane mode and use it to take photos. Or I'll have the camera to document the experience. I usually leave the tripod at home and then regret it later. I got a cheap one on Amazon so if I damage it, I won't mind terribly. At this rate, it'll last me forever.
6. Portable speaker
I know some outdoorsy folks are anti-music and want to enjoy the splendors of Mother Nature and get lost in their thoughts without interruption. I am sometimes like that, too. Other times I like to (softly) jam out to some tunes and will bring headphones on hikes and a portable speaker for camp. Just keep the volume at a respectful level, of course. This durable UE Boom is a popular choice. When I'm not camping, it sits in my shower.

7. Portable charger for above electronics
Depending on how long you're out, you may not need to charge anything. I leave my phone in airplane mode and only use it for photos and music. If it's a multi-day trip, a charger's nice. This is a highly rated and affordable option.
8. Chapstick
At least I didn't say mascara. I love the organic chapstick from Dr. Bronner's (and everything else they make).
9. Bubble guns
10. Melatonin
There is nothing worse than not being able to sleep when you're backpacking!
Pin this list for later!