Remind mom why you're her favorite kid this Mother's Day with a memorable, personal gift. We've got products geared toward active moms, health-conscious moms, stylish moms, and more. You can't go wrong with anything on this list, especially the subscription boxes if you want to pop into your mom's mailbox every month with a little surprise something curated just for her.
When you buy something using links in our stories, we may earn a small commission. Read more about our policy.
Gifts for moms on the move
Gaiam Yoga Mat
This dry-grip yoga mat is one of Gaiam's most popular, and it's my personal favorite. (Read my full review here.) If your mom isn't into hot yoga but still appreciates a good stretch, there are plenty of other high-quality mats to choose from that won't break the bank. I love Gaiam's classic lightweight mat that provides enough padding with a 4mm thickness and traction to safely practice.
Hydro Flask Coffee Mug
Keep your coffee hot and fresh all morning with this double wall insulated, 12-ounce Hydro Flask mug. It's stainless steel and BPA free, and drinks taste as they should. And, it won't leave coffee remnants after washing, so if (when?) you transition to wine in the afternoon, you won't have a worry in the world about mixing those drastically different flavors.
SunCloud Duet Polarized Sunglasses
Sunglasses can sometimes be considered a personal choice, but trust me that you can't go wrong with these stylish glasses that are made for outdoor use. The polarized lenses reduce 99% of glare from water, sand, snow, and pavement, and the frames are both flexible and durable. The nose pads absorb moisture while keeping the frames in place so mom can run, jog, bike, or hike.
Gifts for moms who favor functional fashion
Patagonia Fleetwith Romper
This stretchy (read: comfy) romper is not only functional (it has pockets!) but it's also versatile. Mom can wear it out in public and look tres chic or lounge around the house. Rompers are the perfect casual-wear option for lazy days when you don't want to think too much about putting together an outfit, but don't exactly want to draw attention to the fact that you're basically wearing pajamas at the grocery store.
Birkenstock Zermatt Slippers
Everyone—especially our hard-working moms—deserve a luxe pair of slippers to sink their feet into after a long day. Or, if mom's working from home right now, perhaps to wear all damn day long. These Birkenstocks will last her long enough to remind her for years how much she loves you.
Roxy Beach Cover-Up
After quarantining for what feels like forever, we will all be flocking to the beach or nearest pool as soon as we're released into the wild. Help mom look her best with this fun cover-up, appropriate for women of all ages.
Gifts for eco-minded moms
REI Heading Tote
This cute tote is perfect for everyday use and especially nice to have for a reusable grocery bag. Tote bags are a great gift because it's one of those things you never think to buy for yourself, but they come in handy so often. You have some in the pantry, a few in the trunk, one in the garage. You just never know when you'll need a canvas tote.
Another great gift idea is to fill the tote with a few other small items and save yourself the trouble of wrapping anything. Just hand over the bag! Or, just pop in some flowers for a little wow factor because who doesn't love fresh flowers?
HydraPak Expedition Collapsible Water Container
This 8-liter water container is what we all need to be taking on car camping trips. No more single-use plastic wattle bottles, including big gallon jugs! This durable container is collapsible, so when it's not in use, it packs down for easy storage. When full, it is completely free-standing with a no-fuss wide mouth pour.
Coalatree Blanket
This blanket from the eco-minded outdoor company, Coalatree, is one of those multi-purpose products that mom will get tons of use from because it's not just a blanket. It also has a removable hood and can be worn as a poncho, and it folds up into itself and can be used as a travel pillow. It has water-repelling fabric, so it's perfect for picnics and general outdoor use without having to worry about stains and trying to keep it clean.
Gifts for moms that keep on giving
These gear subscription boxes will remind mom of your incredible gift-giving talents when she opens up the mailbox each month to receive a bunch of goodies from top outdoor brands.
There's no shortage of subscription companies these days targeting runners, survivalists, even dogs, but here are a few of our favorites that would make any momma happy this Mother's Day and beyond.
Note on pricing: we've included the one-time/one-month/pay-as-you-go price, but you can save a bit of money if you sign up and pay in advance for a 3-, 6-, or 12-month plan.
Cairn
Monthly price: $29.95
Sample goodies: shoes, flashlight, base layers, backpacks, books, hammock, healthy snacks, water bottles, socks, solar lanterns, gloves, beanies, navigation tools, first aid products, and more
Past brands: Osprey, HydroFlask, Clif Bar, Grand Trunk Goods, Serac, Cotopaxi, and more
How it works: You fill out a form when you sign up that tells Cairn about your favorite outdoor activities, sizes, etc. From there, boxes may be personalized to give you products that best suit your lifestyle. Some months they're all the same, but each month they're a total surprise. You never know what you're going to get, but the estimated value is always up to $50, so you know you're getting your money's worth.
Nomadik
Monthly price: $32.95
Sample goodies: lanterns, nutrition bars, water bottles, fire starters, gear cleaner, compression sacks, LED lights, coffee tumblers, fanny packs, water bladders, hats, and more
Past brands: RXBAR, United By Blue, Mountainsmith, LuminAID, HydraPak, IGLOO, Gobi Gear, EcoVessel, and more
How it works: After you sign up, complete a profile survey to let Nomadik know the types of activities you're into. Curated boxes will begin to arrive with at least $50 worth of gear—sometimes up to $70 value—with up to 7 full-size items. Each month, your box arrives with an outdoor challenge that matches the box theme. You can also skip any month anytime and you're only billed for what you receive.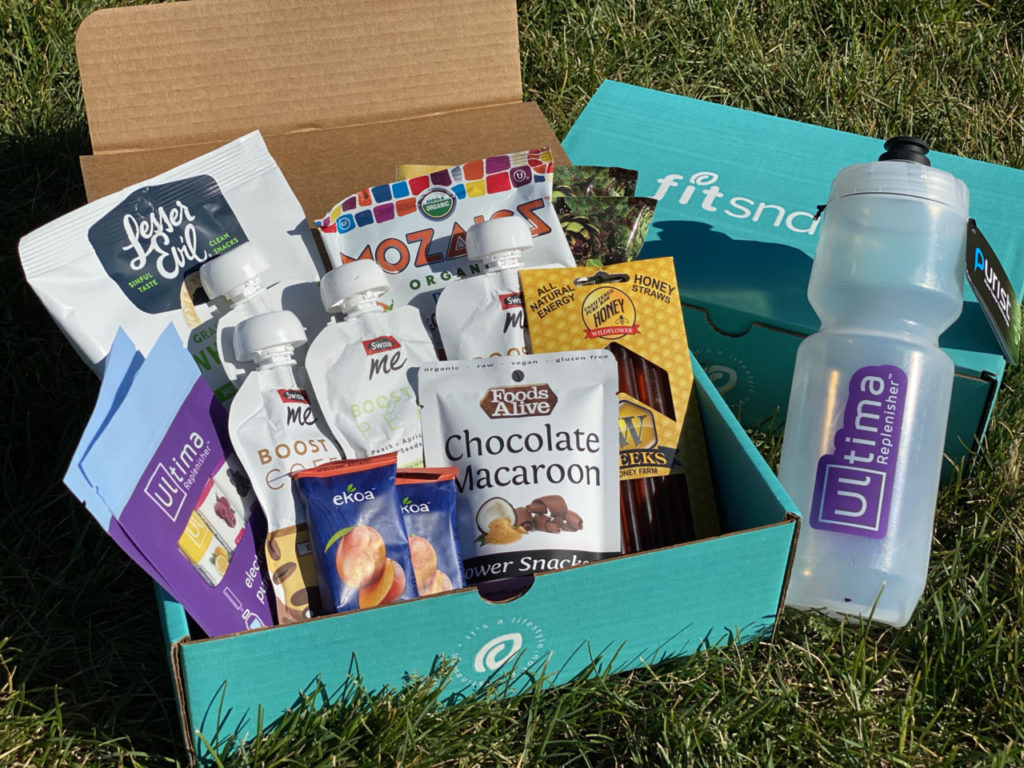 Fit Snack
Price: $28.90
Sample goodies: healthy chips, nutritious drinks, snack bars and other innovative snack products, granola, jerky, exclusive workouts, and more
Past brands: Backpacker's Pantry, Supernola, Moon Cheese, ArrowBar, RXBAR, Bulletproof, Nutiva, Bear Naked, and more
How it works: Fit Snack is curated by fitness instructors and nutritionists and focuses on all-natural products that are free of GMOs and gluten, high protein, and low sugar.
Related posts