When camping, you have to be comfortable being uncomfortable. You've gotta really embrace being dirty, sleeping on the ground, preparing food over fires or small stoves… Roughing it can be tough sometimes! Don't get me wrong. I love camping, but I have also found a few shortcuts along the way that me save time and keep me comfy.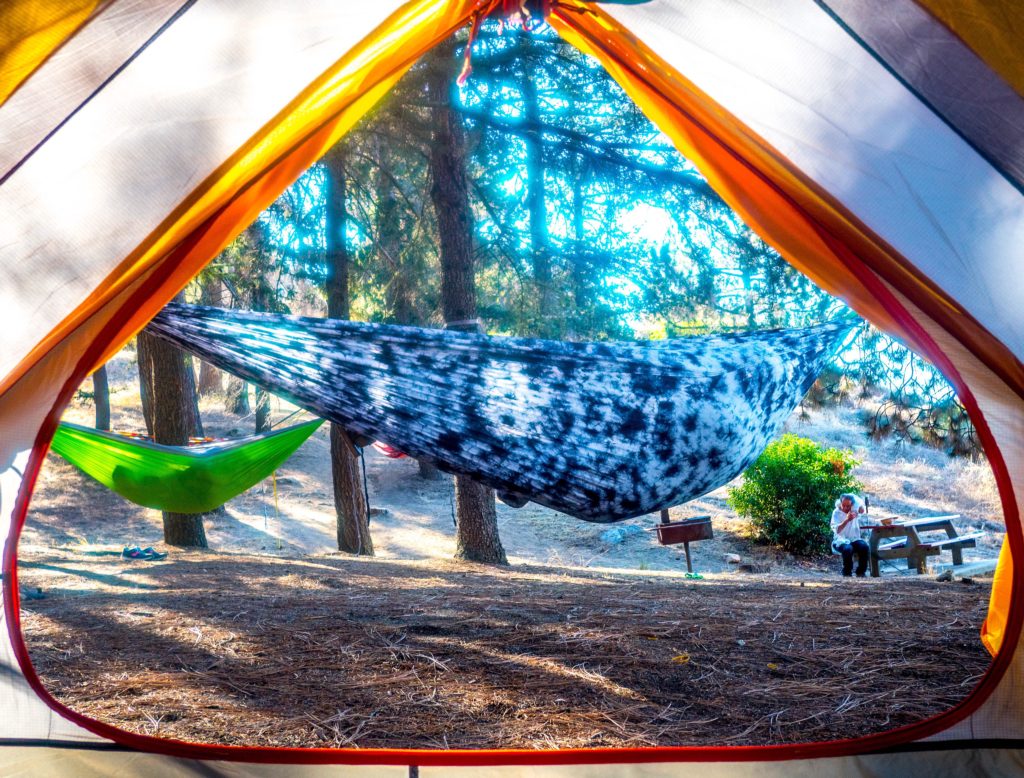 1. Sleeping when it's cold
Fill a Nalgene with hot water and put it between your upper thighs when you go to sleep. If you have two Nalgenes, even better. Fill them both and put the other one by your feet inside your sleeping bag. The coldest night I spent camping was en route to the summit of Mt. Whitney, about 12,000 feet up, in October, the end of hiking/climbing season before winter rolled in. This trick SAVED ME. The hot water heats up your whole body by warming the blood that's then carried throughout your body. It is the difference of shivering all night or relaxing inside your sleeping bag and getting some much needed shut-eye.
2. Pack a box
I keep all of my car camping essentials in a large plastic box in the garage so everything's in one place and ready to go for the next trip. This includes but is not limited to: pots, pans, cups, plates, silverware, cooking utensils, plastic wine glasses, etc. (and I always give everything a good, proper wash when I get home from each trip); French press and coffee accoutrements (necessary); s'mores sticks; small camp towels; toiletries; dish soap; mini salt/pepper and other vital seasonings; JetBoil and gas canister; fire starter accessories; lantern; first aid kit; compass and extra rope (you never know). Grab-n-go!
3. Cooking on the go
I usually prep some of the food before leaving home to make things a little easier at the campsite. I love egg scrambles for breakfast—simple and delicious!—so will chop ingredients and mix everything with the eggs in advance, so all I have to do is pour it into the pan. I also love hot dogs, nowhere more so than at a baseball game or camping. And how do you improve an already perfect culinary delight like a hot dog? By adding bacon, obviously. I've been known to wrap the dogs with bacon at home to void the greasy mess at the campsite.
4. Reese's Peanut Butter Cup s'mores
Speaking of improving upon perfect foods… S'mores are good, but they can be better. One way is to swap out the chocolate bar for a Reese's Peanut Butter Cup and your friends and family will love you forever. You're so brilliant!!