When you buy something using links in our stories, we may earn a small commission. Read more about our policy.
It's not often there's a revolutionary advancement in the water bottle sector. There's only so much you can do with the things—change the size, slightly alter the shape, improve insulation… sure. 
But the new MultiBev bottle-and-mug combo from CamelBak offers something entirely new and surprisingly handy. It's the multi-use piece of gear we never new we needed.
It's essentially two cups in one: an insulated, stainless steel 22-ounce water bottle and a detachable, 16-ounce travel mug that you can unscrew and carry/drink from separately.
The MultiBev's multi-uses
Why is this so incredible? Well, think about it… You're at camp, and you're always refilling your water bottle, but you also have a mug for coffee in the morning and wine/beers in the evening. Now, they nestle together for convenient carrying and instant access, and it's one less cup to keep track of when you attach it back to the water bottle.
When you're out hiking, you can use the mug for mixing electrolytes into your water. I love these energy-boosting powder mixes, but I love water more, and I don't like using my entire water bottle for a pick-me-up. This is a great solution.
Or, in everyday life, you fill a reusable water bottle to take with you on errands, commuting to work, use at your desk, etc. (because you're a responsible citizen), but then you make a pitstop for coffee and they serve your pick-me-up in a plastic or paper cup, or you grab a single-use cup from your office's stash. No more! Unscrew the mug and voila! When you're done, it simply attaches back onto the water bottle.
Leaf-proof cap and storage pocket
The leaf-proof cap that attaches to the mug prevents those dreaded, dribbling coffee drops from seeping out into your front seat or purse. The roll-and-fold lid hides out of sight when not in use (under the water bottle cap). When it is in use, this small space is perfect for storing small snacks or a tea bag within the cup. 
The CamelBak MultiBev 22 oz Bottle and 16 oz Cup is another great solution for reducing disposable waste, and has the added benefit of enjoying two beverages with the convenience of carrying just one bottle.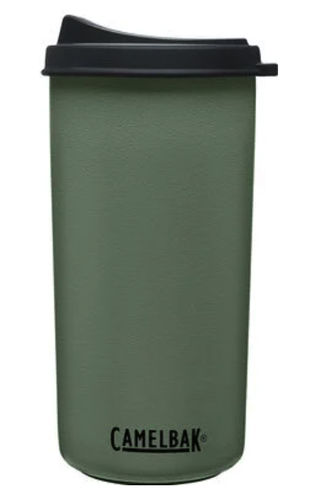 CamelBack MultiBev features
Double-wall vacuum design provides insulation that keeps beverages hot or cold for hours
Stainless steel is lightweight and easy as a daily companion or hiking water bottle
Powder coat finish and non-slip silicone exterior make a for durable design and bottle
Dishwasher safe
BPA, BPS, and BPF free
Related posts