Summertime, and the living's easy. Thanks to a few awesome cities that stocked their public parks with hammocks.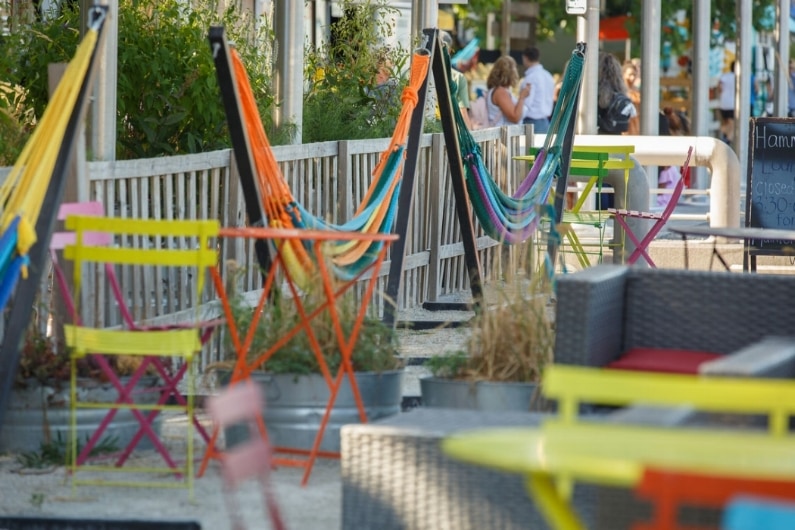 Spruce Street Harbor Park – Philadelphia, Pennsylvania
This seasonal park along the Delaware River Waterfront has been open to the public since summer 2014. Colorful hammocks adorn the trees with tons of activities available like floating barges with food, craft brews in the beer garden, bocce ball, shuffleboard and more, making it a perfect Friday night date or Sunday family outing. You can even reserve a hammock lounge with guaranteed seating for up to 20 people in hammocks, lounge seating, tables and chairs.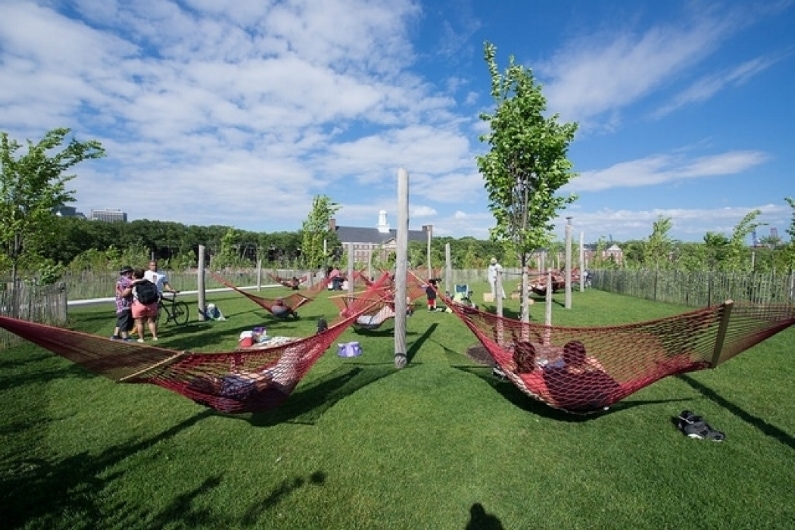 Hammock Grove – New York City, New York
Governor's Island is a small piece of land off the tip of southern Manhattan, close to Brooklyn and the State of Liberty. In the 3.5 years I lived in NYC, I never found a reason to go. That was before Hammock Grove. There are now 50 red hammocks posted up in a lovely patch of grass with views of the city skyline in the distance. If there's one thing NYC needs more of, it's hammocks.
Bruno Kreisky Park – Vienna, Austria
Every summer since 2001, hammocks hang between the summer months of May through October in this popular park in Vienna. Beyond that, Vienna has a few other hammocky things to see and do if you're in town, including the five-story House of Hammocks interactive art installation with 32 hammocks in the open-air structure at the Museumsquartier, and the hammock room at the Hotel Daniel, which you can book for $150 and never leave your bathroom if you don't want to.