If you're crazy like me and want to jam-pack five national parks parks into a week-long road trip through Utah, I am here to tell you it's entirely possible. Thanks to an aggressive travel schedule, I did roughly one park per day, plus driving, setting up camp, cooking, supply/grocery/postcard shopping, showering (here and there) and all the other millions of things necessary to #VanLife.
To make the road trip dream a reality, I partnered with JUCY, which offers vans/RVs outfitted with beds, kitchens and pretty much all you need for life on the go.
Read on for a full itinerary and what hikes you must do along the way.
Day One: Zion National Park
My friend Suzanne and I arrived in Vegas to pick up the JUCY (they also have locations in LA and SF, as well as Australia and New Zealand). We hit the road later than—of ocurse— making a pit stop at the grocery store to stock up on food and supplies. We bee-lined it to Zion, forgetting we'd lose an hour with the time zone change. Woops. We already had a reservation at the Zion Canyon Campground, just outside the park in Springdale (shuttle stop #3, very close and convenient), so we dropped off the JUCY and went straight into the park.
Zion is one of the top five most popular national parks in the country, with 4.2 million visitors last year. Also, it's pretty small, so during peak months (April-October), you can't drive your personal vehicle through the park. The shuttle service is pretty convenient, though, even if crowded and operating on limited hours, which means you may be leaving the park earlier than you'd like.
With a few hours before nightfall, we opted for an easy four-ish-mile hike to the Lower Emerald Pools, down the Kayenta trail and looping back around to the Lodge. Kayenta is categorized as a moderate hike, but it felt way too easy. As I was telling Suzanne we must be on the wrong trail, a ranger comes up. Great, we can make sure we're going right way. Wait, he's on crutches, which means we're definitely on the wrong trail. Nope, he confirms it's the Kayenta trail. Oh… cause looking at the map, I figured it would be a little harder than… never mind.
We pick his brain about the following day. We have the option of doing a proper hike in the morning before heading to Bryce or hitting the road straight away and spending more time exploring the next park. He talks us into getting up early for the Weeping Rock trail before leaving Zion. Why not Angel's Landing, you're wondering? Well, I've done it before and Suzanne wasn't thrilled about five miles for hike #1 of the day (and the use of handrails at the top), so Weeping Rock seemed like a good option to take in more of the park. Good plan, team.
In the morning, we ditch that plan entirely and leisurely make coffee, scrambled eggs and bacon over the open flame. Schedule mschedule… Off to a great start.
Pro tip: If you go to Zion National Park, definitely hike Angel's Landing. If you're afraid of heights/danger, it might spook you, but it has the most incredible views of the valley and will get your heart rate up with 1,500 feet of gain over 2.5 miles (one way). People also love the narrows, though I've not personally made that trek yet.
Day Two: Bryce Canyon National Park
I've wanted to go to Bryce Canyon National Park for a very.long.time. The photos are just unreal. If you're wondering if it really looks like that in person, the answer is no, it's better.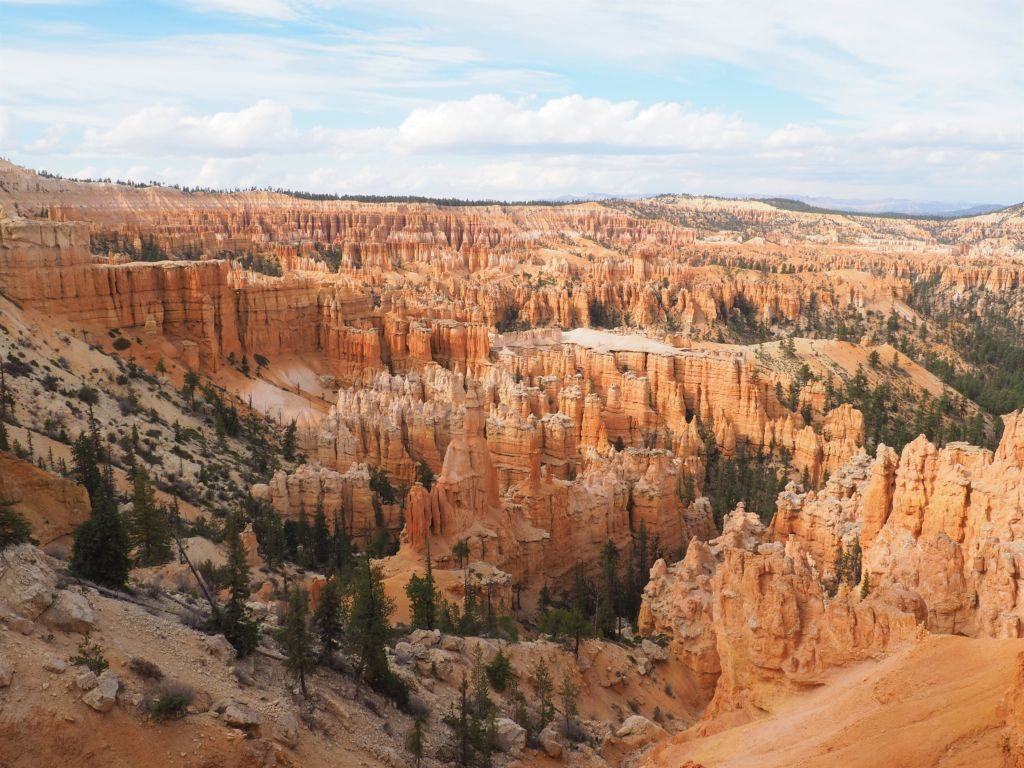 We arrive around lunch time (super leisurely timeline here, folks) and staked out the campground for a spot. It's first come, first serve in October and with expected lows in the low 20s that night, we figured we'd have no problem getting a spot. We were right.
We began the hike down into the canyon, opting for the slightly longer route past The Cathedral, along the Peekaboo Loop Trail, and back up to the rim via the Navajo Loop Trail and the epic Wall Street slot canyon and ass-kicking switchbacks. We arrived at Sunset Point, and while Suzanne hopped the shuttle to the General Store to get firewood before it closed, I walked along the rim to Sunrise Point, logging a total of 6.5 miles for the day, alongside some of the most incredible landscapes I've ever hiked. Words won't do it justice (not mine, anyway), and these photos will only give a glimpse into what Bryce is all about.
Pro tip: If you go to Bryce Canyon National Park: It's a small park with only a few hikes. The ranger from the day before suggested we do the Fairyland Loop trail, which another hiker we met that day told us is lovely. You can't really go wrong with either of these popular routes. You're among the hoodoos left and right and the photo opps are endless. If I had another day or even half-day, I would've squeezed in this other hike. I already want to go back and see more of Bryce.
Day Three: Capitol Reef National Park
I've camped in the snow and slept in ferociously cold temps, actually crying myself to sleep one night because I was so uncomfortable and miserable. But this night, I slept like a baby. A warm one. Granted I had on layers upon layers and we brought our 20-degree sleeping bags, but I must say, the top bunk of the JUCY van was everything I needed. It's spacious (built for two, but with Suz was downstairs, I sprawled out) and the bedding they provide was cozy and plenty warm.
It was too damn cold for a leisurely campfire breakfast, so we hit the road ASAP and continued on to Capitol Reef National Park. We stopped for coffee and to mail a postcard. Upon arrival, around lunchtime, we were starving and all of our food in the van's mini fridge had frozen during the night. Woops. We downed some cuties and potato chips and started to plan our day.
Research told me that Capitol Reef is the least popular park and often overlooked, unrightfully so. We arrived, and it was PACKED. The woman at the Visitor's Center was not all that friendly, so we left without much direction or excitement.
We opted to start with the 10-mile scenic drive. The first eight miles are just like the rest of the park and you might be wondering why you paid $10, but then you end up going down a dirt road and in between towering red rocks. It was beautiful. But we were getting increasingly hungry.
We decided against a proper hike since it seemed really crowded and the trail we were told to do takes you to a natural bridge, which is awesome, but we had lots of bridges in our future. I know, not all bridges are created equal, but did I mention we were hungry? And we still had to drive on to Moab, another two hours away. We hit the road, making the first pit stop possible for food, ending up at Duke's Slickrock Grill in Hanksville (great, friendly service, free Wi-Fi and a decent BLT) and made it to Moab before sunset.
Confession: We booked a hotel the first night in Moab because we figured we might be ready to shower and settle into a proper, warm bed. It was a good choice, and I also desperately needed to charge my camera battery since I'd only brought one with me. Woops #3. We ventured out for dinner in town (Eddie McStiff's – good Greek salad and cheap "champagne" that really hit the spot) and like all other nights this far, we were fast asleep well before 10pm.
Pro tip: If you go to Capitol Reef National Park: Actually hike, unlike us. The scenic drive is great and worth doing, but get out of the car, for crying out loud. The most popular trail is about two miles round trip and takes you to Hickman Bridge.
Day Four: Canyonlands National Park
I've never been to the Grand Canyon and after going to Canyonlands National Park, I'm not sure I need to. Just kidding, but this park was the most surprising of our whole trip. I wasn't expecting this kind of vast landscape and deep canyons as far as the eye can see. Clearly, we'd done very minimal research and I forgot entirely what was in store by the time we arrived.
Canyonlands is broken into two parts, Needles and Island in the Sky. We didn't have time for Needles, but several people we met that day raved about it. Next time. Today, we'd tackle I-SKY, which is best known for its Mesa Arch, a popular spot for sunrise. Of course we didn't make it in time, but we did manage to squeeze in two awesome hikes this day.
The first hike was to Grand View Point (named for obvious reasons), an easy two-mile round trip along the top of the mesa overlooking the canyons. We took a break for lunch and cooked up some chicken with a salad out the back of the JUCY van. Then we hit the White Rim Overlook trail, another easy hike (1.8 miles round trip) with even more incredible views. We saw four other people the entire time – glorious!
Later, we settled in for a beautiful, peaceful sunset show at Green River Overlook.
Pro tip: If you go to Canyonlands National Park: Do what we did. We squeezed in all the main sites and had enough time to enjoy the park a bit, while logging some decent mileage. If you have more time, Needles sounds pretty incredible.
Day Five: Arches National Park
Suz felt the need to take a break, sadly on one of the most anticipated day of the trip (and what would be my favorite): Arches National Park. While she stayed back in Moab, I hit the road solo, beyond excited to see the infamous Delicate Arch. The ranger suggested I start there, as it only gets more crowded as the day goes on.
I hustled up the 1.5-mile trail, which has a decent incline, with my headphones blasting and my excitement barely contained. Turning the last corner and finally seeing the arch was one of the best moments of this entire trip. It was bigger than I'd imagined. Despite all the people on the way up, it was less crowded than I'd imagined. The sun was blazing, the temperature was perfect. People were sitting in awe of the arch, taking photos and posing under it. I saw down and peeled a mandarin. I could stay here all day, in the presence of this… thing. Alas, I had lots more arches on the agenda. I asked a stranger for a photo and headed back down to the van.
The next stop was Landscape Arch, an easy mile round trip, with quick side stops to see Tunnel and Pine Tree Arches along the way. I really liked this arch but it was far less photogenic at this hour, with the sun glaring from behind. Landscape Arch's span is longer than a football field, but you can't go under because of some pretty major rockfalls in the 90s.
I had time to squeeze in a few more arches, so headed to The Windows, where you can do an easy, two-mile loop to see three awesome arches and then cross the parking lot to see Double Arches (so awesome) up close and personal.
Pro tip: If you go to Arches National Park: Plan a full day and take your time, especially at Delicate Arch. I could have sat here another hour, just starting at the monolith. It's one of the most stunning natural landscapes I've ever seen. The perfect weather certainly helped (it can get HOT in summer), so aim for fall.
Day Six: Natural Bridges National Monument
It's our last day, and we had big plans. The night before, we drove from Moab to Natural Bridges National Monument. The plan was to wake up here and do a few of the easy trails to the three massive bridges before hitting the road. We'd drive through Monument Valley, stopping only for photos, before arriving in Page, Arizona by 3pm for a guided tour of Antelope Canyon.
The first hiccup was upon arrival when the Natural Bridges campground was full. This place is very remote (no cell service) and DARK. It was actually the first designated Dark Sky Park. The stars here are the brightest I've ever seen. We debated sleeping in the visitors center parking despite the sign clearly telling us not to, but opted to park illegally in a non-spot in the campground. We'd be up and out early, so hopefully no one would even notice us.
The second hiccup came at dark-thirty a.m., when Suz went to the bathroom, locking the keys inside the JUCY. I was fast asleep in the upstairs compartment, cozy and warm, when she knocked on my zippered door to let her in. She hadn't taken her jacket with her… I'll skip all the dreadful details and say this turned out to be another absolute highlight on the trip.
When our neighbor woke up, he offered to help us break into the van. Another neighbor gave us a ride to the visitors center and quarters for the payphone so we could call AAA. It ended up being a three-hour wait, so in the meantime, Ranger Steve used his kit to open the door. By this time, the whole campground knew us and wanted to help. A short two hours later, we were back on track, with eight new friends. I handed out roses to everyone to show our gratitude, before rushing out, trying to keep us on schedule. We hurriedly did the Sipapu Bridge Trail (two miles round trip, beautiful, highly suggest!), scrambled some eggs and hit the road, again.
Monument Valley, Horseshoe Bend + Antelope Canyon
After a quick drive through Monument Valley and taking that iconic photo you've seen on IG a million times, we made a 30-minute pit stop for another iconic photo op at Horseshoe Bend. Honestly, the amount of beauty on this road trip is just unbelievable.
We finally arrived at the tour guide office, loaded into the back of a truck with a dozen other wide-eyed tourists, and embarked on the last excursion of the day at Antelope Canyon.
It was 3:30pm in October, so not the most ideal light situation in the slot canyon, but it was beautiful. Our guide, Sonny, suggests an 11:30am tour in June to get those famous rays of sunshine coming through. But I say go whenever you can and you'll still have your mind blown.
Earth—and Utah, specifically—is the most wonderful place.
Thanks to JUCY for helping to make this road trip possible. Learn more at www.jucyusa.com and follow them at @JUCYUSA.