It's been a busy 2017 so far with two trips to Mexico under my belt by February. The first was to fabulous Los Cabos (my first time there)! It's a quick two-hour flight from LA and upon landing, you might just think you never left the City of Angels. Located at the very southern tip of Baja, Cabo's desert landscape and picturesque palm trees made me feel like I was still at home, but with a lot more interesting and larger cacti.
Cabo is home to some of the world's best luxury hotels. Having worked in the travel industry for 10 years, I've been cubicle dreaming and drooling over these properties for quite a while. It was finally time to see a few of them in real life!
Chileno Bay Resort & Residences
What started as a work trip turned into leisure, and I was lucky to be staying at the new Chileno Bay, an Auberge resort that opened this month with residential villas available for sale. We spent most of the first day relaxing at the gorgeous hotel. We grabbed lunch at TnT (aptly named for its tacos and tequila), and after trying the majority of the menu (yum!), we took a dip in the hotel's three-tiered infinity pools, overlooking the beach and Sea of Cortez. Later, we just had to get into our in-villa hot tub (yeah, ridiculous!), before venturing out for dinner. I cannot recommend Flora Farms highly enough – live music, great service, good vibes and most importantly, super fresh, locally sourced and delicious food.
One&Only Palmilla
We started out by stopping into the One&Only Palmilla, a regular hot spot for celebs like Jennifer Aniston and Demi Moore. I was giddy driving in, getting more and more excited as we drove along the perfectly manicured road, full of so much lush greenery and brightly colored flowers and yes, lots of palms. After eating more amazing food at the swim-up pool bar (ceviche and guacamole & chips), we ventured down to the beach and lo and behold, there were so. many. hammocks! I knew I'd love this place! Later, we wandered through more of the secluded and meandering pathways, finding another hammock garden, some guestroom patios with hammocks and yet another private beach with huge (hammock) nets.
The Resort at Pedegral
After an afternoon of pretending to live like the 1%, we got back in our tiny rental car and drove down past Cabo San Lucas to check another luxury hotel off the list: The Resort at Pedegral. We hoped to snag a dinner reservation at its famous beachside restaurant but weren't so lucky. We did luck out, though, by just being able to enjoy some cocktails at the pool bar. A few hours later, the sun set, the live music started and we ended up staying for dinner. It was too pretty to leave and anyway, we had nowhere to be…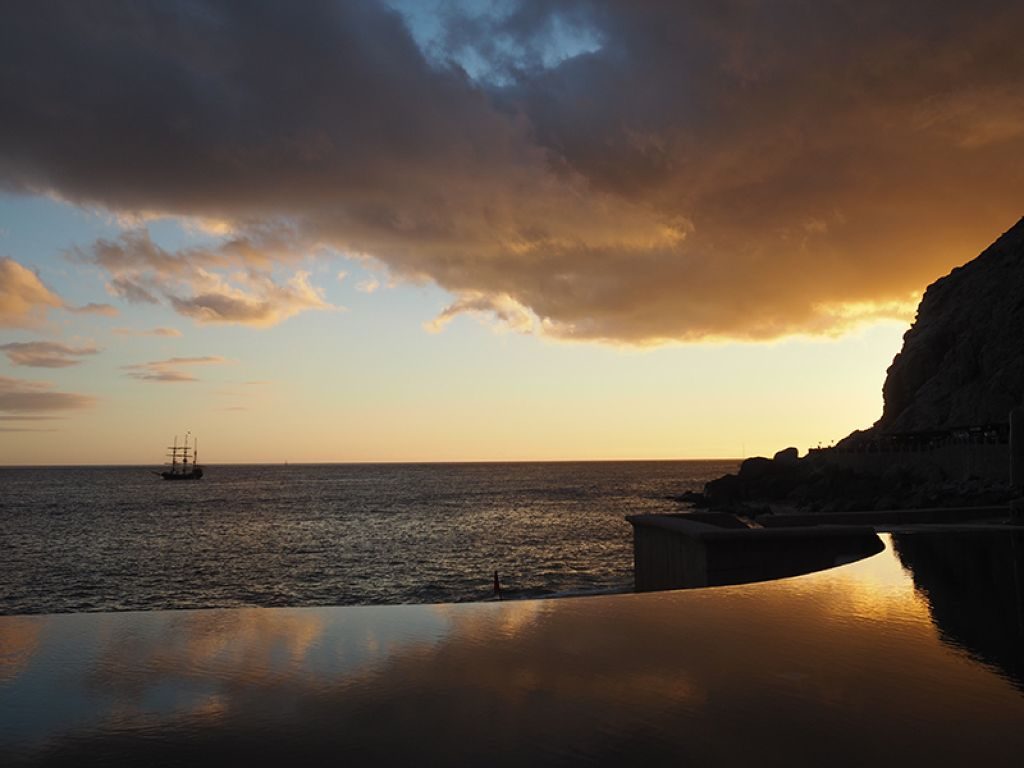 Farewell, Cabo…
The last day came too fast, and we decided to enjoy it at Chileno Bay before heading to the airport. At breakfast at COMAL, the resort's signature restaurant, we watched some whale activity out in the bay while sipping cafe. Back in our room, getting ready to leave, we saw even more whales—and much closer this time—jumping clear out of the water, one after the other, five times in a row. Amazing! There was a whale watching boat right next to them, and I was so excited for the people on that boat, getting that sort of experience so up close and personal.
We took our last few hours to get out on the water ourselves with a little kayaking. Back on shore, the resort's H20 Cave had even more fun toys to play with, and I couldn't help but test out the water bike (a full-on pedal bike set atop two large pontoons).
We were sad to leave Cabo but will definitely be back, especially considering how easy it is to get to. Next time, now that I've seen some of the super high-end resorts, maybe we'll explore the other side of Cabo and hit up all the famously fun bars and beaches, eat at the down and dirty Mexican joints, and hang our hammocks between some palm trees of our own finding…
Pin this travel guide for later!