Whether you're shopping for a nature newbie or someone who has everything they could ever need for an outdoor adventure, this list is sure to inspire some new ideas.
Not sure what to buy for an outdoorsy boyfriend or girlfriend? See the men's and women's categories below.
It's also packed full of great gift ideas for any budget. We've got the best outdoor gift ideas for under $40, basic apparel you should have for outdoor adventures, quirky camp accessories, and more.
Scroll down, or navigate to a specific category. Happy shopping, and happy holidays!
Hammocks (you could stop right here)
Outdoor gifts under $40
Travel bags, gear + accessories (even more gifts for less than $40 here)
Camping equipment
Backpacking gear
Outdoor apparel, for him
Outdoor apparel, for her
Kids outdoor gear
Miscellaneous
When you buy something using links in our stories, we may earn a small commission. Read more about our policy.
Hammocks
Check out our complete Hammock Buying Guide, which breaks down the various types of hammocks and what—and who—they're best for.
Outdoor Gifts for Under $40
Nomadik Gear Subscription Box
A monthly subscription service delivered to your doorstep full of cool outdoor gadgets and gear. We tested out the box and can promise it would make for an awesome gift!
Gerber Suspension NXT Multi-Tool
Keep this with you when you're in the wild and in your car every other day for just-in-case situations. This particular model is a top pick based on functionality + price = a winning combo.
Buff Multifunctional Headwear
It's always nice to have one of these in your bag. Buffs can keep you warm or clean from dust, act as a towel if that's what you need at that moment, etc…
Adventure Medical Mountain Hiker First Aid Kit
A first aid kit is one of the 10 essentials. If you're looking for an all-in-one pack that's ready to go, this Hiker kit contains carefully-selected first aid supplies to treat common on-the-trail injuries and illnesses.
Black Diamond Storm 400 Headlamp
This model is one Black Diamond's top sellers. It's bright and compact, with a waterproof body.
National Park Posters
Artist Robert Decker has a collection of WPA-style National Park Posters that make for a perfect gift. Did you share a trip to one of our national parks recently with someone you love, or are you eyeing one for a 2020 bucket list adventure? He's got lots to choose from. You can read more about them here, or look though his collection here.
Travel Bags, Gear, and Accessories
CamelBak Custom Bottles + Travel Mugs
Personalized gifts are the best. You'll notice there are no gift cards on this list. Talk about not personalized. So, how about stepping up your game this year and giving someone you love their own personalized gear? CamelBak also just dropped its Snow and Kids Holiday Bottle collections.
Hydro Flask Coffee Mug
This is necessary for any road trips to keep your coffee warm and safely not in your lap.
Fjallraven Kanken Pack
All the cool kids are doing it. This pack has been around for decades and isn't going anywhere anytime soon. For anyone who doesn't want to splurge on stylish pack for themselves, this makes for a great fit.
Coalatree Kachula Blanket
Read the full review here so see just how obsessed I am with this blanket/poncho. It lives in the back of my Jeep and is always at the ready for hikes, picnics, whatever. With a detachable hood, you can even wear it and wrap it around you to stay warm.
REI Travel Duffel
I'm also obsessed with duffle bags. What's more perfect than a duffle? Stuff your stuff in and go. This one—like everything REI makes—is great quality with an even better price tag.
Camping Equipment
Luci Outdoor Inflatable Solar Light
This is pretty much my favorite piece of camping gear (lame? whatever), and—BONUS—it was given to me as a gift. This lantern is inflatable so when it's not in use, it shrinks down for easy packing. It's also solar powered. You get plenty of juice even if it's not super sunny, and it lasts all night. It's bright, and also adjustable. There are two straps on either side for easy hanging. It's just perfect.
Kelty Low Loveseat Camp Chair
Level up your camp chair game with this loveseat—who even knew these existed?! Perfect gift!
Coleman LED String Lights, 10 Lanterns
Well, if this just isn't the cutest thing you've ever seen. Perfect for the backyard to get that campground ambiance.
Camping Log
I found this journal in a store in Bend, Oregon from a local artist and have dutifully filled it out each night camping ever since. I can't wait to read back on all my adventures in the future. I love everything this artists makes and am contemplating some wall art, too.
Dr. Bronner's Organic Liquid Soap
This is hands down the best camp soap out there. This organic soap is gentle enough for delicate skin, and can be used for everything: shaving, as shampoo, dental mouthwash, or body bath soap. Voila.
Pull Start Fire Pull String Firestarter
This may be seen as cheating, but if it's cold, windy, or wet—who cares? These bad boys light your fire instantly and can be a total lifesaver.
Coleman Compact Propane Stove
I have a love/hate relationship with camp stoves. I try to cook over open flame as much as possible, but sometimes stoves are just more convenient. It's nice to bring along when you're car camping—ya know, just in case. I love the look of this vintage compact stove, which is big enough for two pans.
Backpacking Gear
LifeStraw Water Filter
I also saw these guys at Outside Experience, and people were drinking water straight from a nasty fish tank full of dirt and who knows what else. It really works. And, as you know, it's really important to have clean water while backpacking. The LifeStraw is small, lightweight, cheap, and effective. 
MSR

PocketRocket 2 Stove

A portable stove is pretty much an essential for backpacking, and this is pretty much a fantastic option for a great price. See a complete list of backpacking essentials in this complete packing list that covers gear, shelter, clothes, navigation, and more.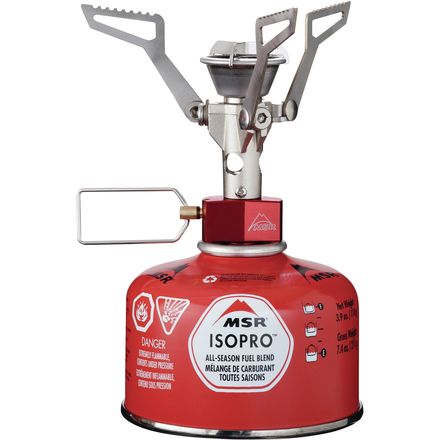 REI Flexlite Chair
I include this chair in every gift guide because 1) I like being comfortable when I'm backpacking and it's become an essential, and 2) it's $80, which means I probably wouldn't buy it for myself. I got it as a gift and it's one of the best gifts I've ever gotten. It's a perfect present because it's more of a splurge item that someone probably wants but probably doesn't want to shell out 80 big ones for. So go ahead and spoil them, eh?
Outdoor Apparel, for Her
Patagonia Nano Puff Jacket
Excuse me while I buy this for myself… There's no such thing as too many puffy coats. Especially if you wear them often.
REI Merino Wool Midweight Base Layer Top
I really only wear REI and Patagonia base layers. They personally fit me best, and they're less expensive than a lot of other brands. Midweight is great on its own for keeping warm if it's a little chilly out, or you can layer under a coat if it's cold. They're also great for wearing to bed at night.
Patagonia Ahnya Pants
It might seem ridiculous to spend so much money on joggers, but the last time I checked, I spend more time in my loungewear pants than anything else. Think about it: at home, traveling, road trips, airplanes, at camp after a day hiking or backpacking, etc, etc. These pants are divine and worth every penny.
KEEN Targhee III Waterproof Hiking Shoes
There's no wonder these are a best seller. You really can't go wrong with KEEN's got wide variety of quality hiking shoes. There's something for everyone. Personally, I prefer the low ankle style. I lot of people need high ankle support, so see what works best for you. I typically wear the most minimal-ist type footwear I can get away with, so if I don't need waterproof shoes, I'll opt for a lighter weight trail runner, but these are my go-to choice for low-key and flexible yet waterproof and durable hiking shoes.
ExOfficio Thong Underwear
Who says you can't be sexy when you're outside? Listen, I wear ExOfficio underwear and thongs when I'm hiking or backpacking, and they're great. They're a little more high-waisted then my everyday underpants, which is helpful, and they're made of that same breathable material like your favorite outerwear. Winter is for full-booty coverage. Summer is for no underwear-line thongs.
Outdoor Apparel, for Him
Darn Tough Hiking Socks
Socks are one of the most important parts of any outdoor experience. You can't skimp on footwear. Darn Tough makes quality wool socks in lots of fun color schemes. Buy one pair and they'll last you for years. Sometimes you get what you pay for. Sorry (not sorry), Hanes.
Arc'teryx Zeta SL Rain Jacket
Arc'teryx makes super duper quality stuff. Buy this once, and you're set for life. It's highly technical gear with no detail overlooked. This rain jacket is one of its most popular models with all the bells and whistles to keep you dry and warm in the outdoors.
Merrell Trail-Running Shoes
If your man doesn't have a pair of Merrells, hook.him.up! I love their trail running shoes because they're super lightweight, have great tread, and let's be real, they're pretty stylish. Merrell is also my go-to brand for water shoes. If you're doing any trekking through water, they offer the same great support and dry quickly.
ExOfficio Boxer Briefs
I know guys who wear these as everyday underwear. Just saying.
Patagonia Reversible Bivy Down Vest
Every stylish outdoorsman needs this vest.
Gifts for Outdoor-Loving Kids
REI Co-op Tarn 18 Pack – Kids'
Kids have lots of important things to carry around, whether on the trail or walking around the block. Help them do it in style with this cool and comfy backpack.
REI Co-op Kindercamp 40 Sleeping Bag
Get the little ones even more excited about sleeping outside with a fun sleeping bag.
Miscellaneous
Catalyst iPhone X Waterproof Case
I know they say iPhones are waterproof these days, but I'm not taking any chances. This case is made from shock-proof premium materials and has a slim design. It's great for swimming, taking to the beach, out on a boat or kayak, etc.
Ruffwear Approach Dog Pack
Truth be told, most dogs have more energy than we do out on the trails, so why not let them help carry some of the stuff? This comfy pack has a snug, non-slip fit and two points of leash connection.